A successful sports holiday requires healthy food, mental relaxation and peaceful sleep. Our base camp at La Soleillade en Cévennes guarantees you all these things. The former silk worm farm has an area of 5000 square metres with a swimming pool, several outside terraces, guest rooms with comfortable beds, in separate buildings, and a large communal room with open fireplace – for those rare occasions when the sun isn't shining.
The ingredients of breakfast and evening meal come mostly from our own fruit and vegetable garden, which is managed according to the principles of permaculture. La Soleillade is certified by the Cévennes National Park and by the Eco-tourism Association.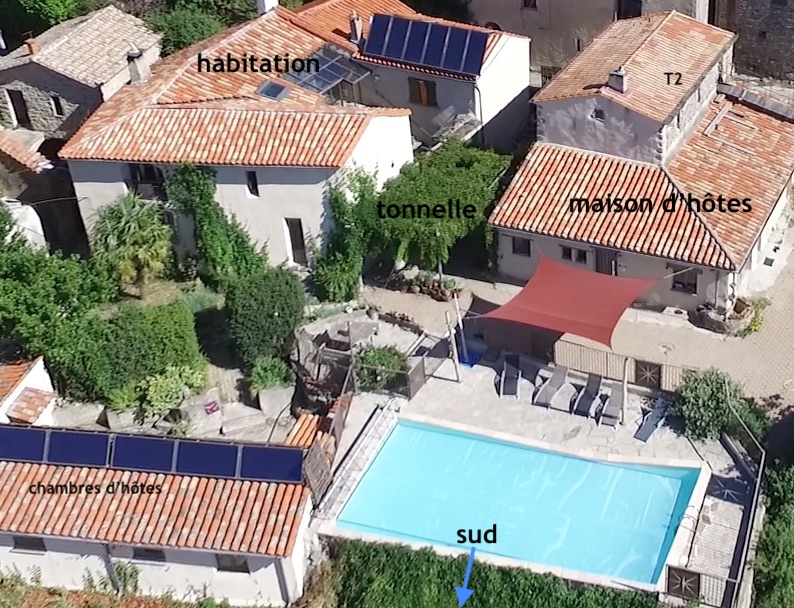 The farm lies at the edge of a small mountain village at a height of 600 metres on the southern slopes of Mont Aigoual, the second-highest peak in the Cévennes. The view from the terrace sweeps over the sundrenched Hérault valley. The climate is Mediterranean. It is a place of quiet and relaxation, with no through traffic of any sort. This idyllic peace is only interrupted by the occasional shepherd driving his flock through the village.
In the evening, after a refreshing drink, we gather at the long table under the pergola. Here, waiting for you, is cuisine fit for sporting types. Vegetables, herbs and fruit come fresh from our own organic garden, the cheese direct from our neighbour, and on top of this, a good drop of wine from one of the excellent Languedoc vineyards. After that, despite all the efforts of the day, you feel fit again and are looking forward with anticipation to the next Stage!